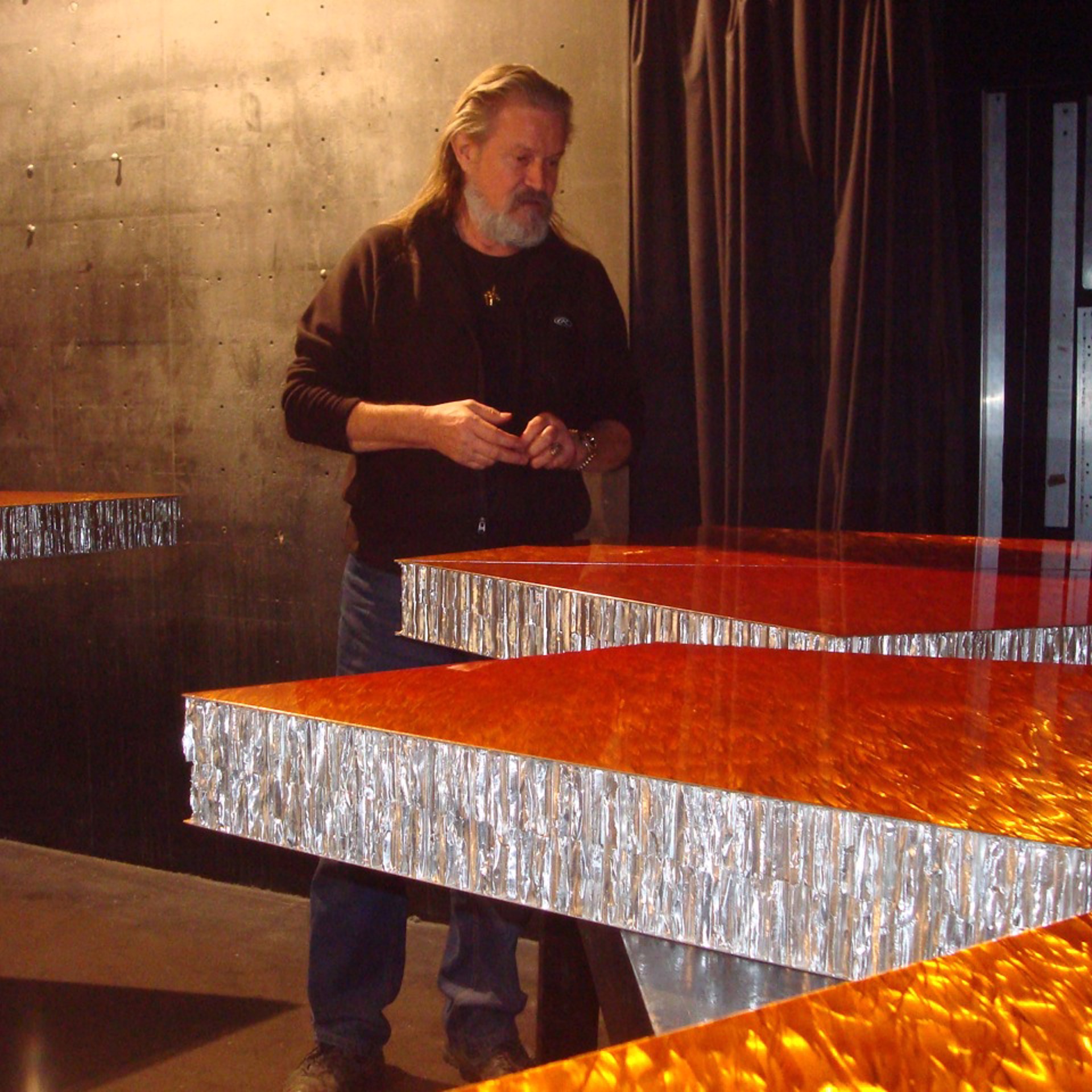 "Nottebohm would have to be "hands down" the king of metal art. There are many artists using metal today, but Andreas' art has more than set the standard. He has raised the bar to the point that very few, if any who come after him, will ever achieve his success." ~ Sacramento Press
Often regarded as "The Godfather of Metal Art", Andreas Nottebohm was born in Eisenach, Germany in 1944. Andreas aspired to be an artist at the age of five, and by the time he was eighteen he was regularly selling his work. Andreas Nottebohm was educated at the Academy of Fine Arts in Munich under surrealist professor Mac Zimmermann, and studied etching in Paris with Johnny Friedlander. In the early 70s, he also studied stone lithography in Salzburg, Austria. In 1978, Nottebohm had a one-man show at WASHART in D.C. where he fell in love with America. Soon after, Andreas became a citizen sponsored by the Smithsonian Institution, NASA and Hughes Aircraft.
In 1974, Nottebohm was working on lithography in Munich where the owner also had an offset press, which uses thin aluminum sheets. Discarded pieces ended up in the trash, where he rescued them to paint on. Initially disappointed because paint would not adhere to the slick surface, Andreas discovered that their luminous quality could be brought to life by grinding the surface which creates depth, movement, and the magic that started a whole new genre of art.
In the early 2000s, Andreas Nottebohm favored abstract works on metal, making the grinding of the surfaces the reflective, interactive, innovative pieces they are today. This innovative and stunning new style quickly gained recognition in the art world.
Many artists have been inspired by Nottebohm's work, and he has been included in the collections of museums such as the Smithsonian Institution, the Sacramento Crocker Art Museum, the NASA Art Collection with nine pieces, the Schnitzer Museum of Art in Eugene, OR, Farhat Museum in Beirut, Lebanon, and many more.
Music is a fundamental element of Andreas Nottebohm's work - from Mozart to Willie Nelson. Classical music is particularly inspirational, as he was born in the birthplace of Johann Sebastian Bach (his school was across the street from the house where Bach was born). Nottebohm grew up with a great appreciation of Bach, whose incredible mastery of his art indelibly influenced him. Nottebohm humorously muses, "I became a painter so that I could listen to music all day."
Read More