Steve Matson's Lake Arrowhead Home
4/2/2020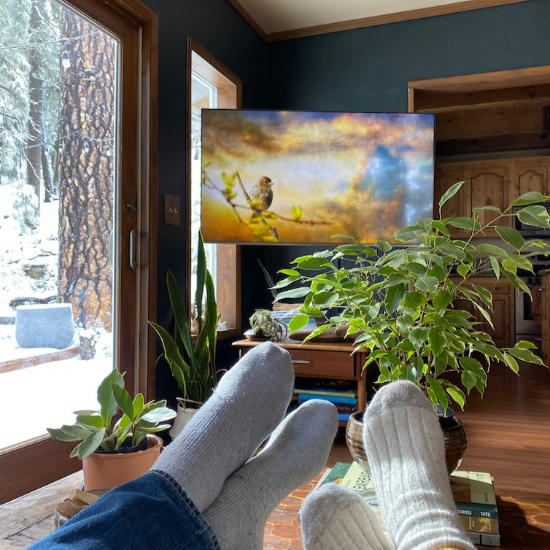 Steve & Monica relaxing to one of Steve's moving paintings
Aloha from the mountains of Lake Arrowhead! After a beautiful winter, Spring is in the air. Isolation is part of the artists job, so we've had lots of practice! In the winter it's easy to do: gathering around the fireplace, hot chocolate and lots of painting!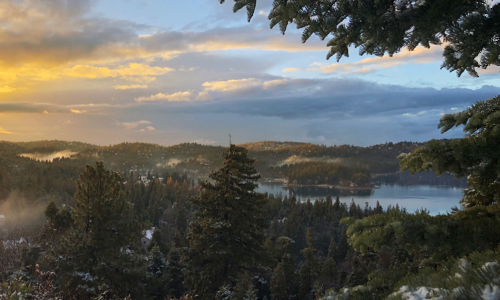 I've been very busy working on my 12th moving painting.It centers around the seasons, conveying the cycles of life. I got really inspired after moving into the mountains of Lake Arrowhead. The scenery is breathtaking. After watching the change of seasons and all the wildlife around our house, I couldn't wait to get started. I'm now about 3/4 the way through being finished. It shows the passing of one day, from sunrise to sunset and then into night. Each time of day also represents a different season: the growth of spring where everything is anew, autumn where we reap the harvest we have sown, to an early winter snowfall where everything is transformed yet again. I have never done a piece like this before. It's been very challenging and very rewarding at the same time!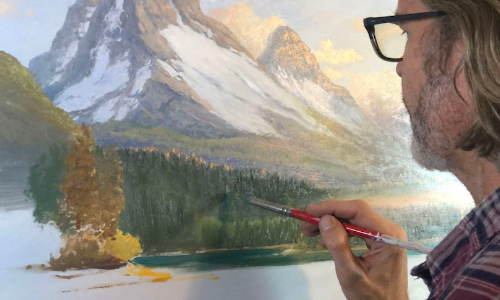 A sneak peek at one of the backdrops Steve is creating
In these uncertain times it can be difficult to calm our minds. When we are stressed or have anxiety, our bodies go into a fight-or-flight response. A great way to break this cycle, is to distract ourselves with something that will help relax us. These moving paintings have a unique ability to draw you in and capture your attention. They have been proven to help relieve stress and anxiety.
Mahalo & stay safe, Steve & Monica Matson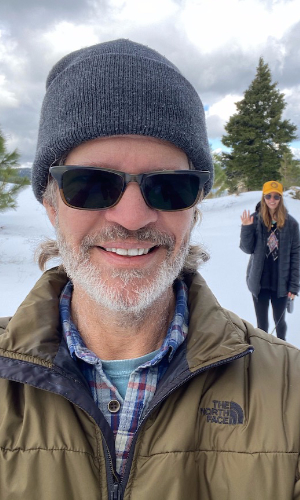 Monica & I practicing social distancing
"Here's an excerpt from a great book I found myself revisiting during these times." Steve

"In the fast pace and complexity of modern life, we can easily have thirty or forty situations happening simultaneously. Each will be in some phase of the cycles of transformation and change. The more we live in the moment, without comparing ourselves with others or what's happening now to the past—the clearer we can see our noble elegance. Living this way is exciting, challenging, and more than a little scary. But the fruit of saying "yes" to all of life's lessons is the opportunity to live wide awake. You spend more time in the higher realms of thankfulness and gratitude where life is rewarding, fulfilling and we can experience the magnificence of each moment, no matter which part of a cycle we find ourselves in."
Excerpt From Body Intelligence A New Paradigm: Living a Heart-Centered Life in a Mind-Centered World by John L Mayfield

Tropical Horizon's "Moving Painting" Short Sample
To see more examples of Matson's "Moving Paintings" CLICK HERE . To inquire about purchasing: Email Us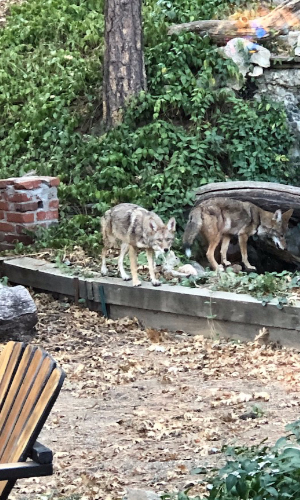 A couple of coyote's drinking from our fountain in the backyard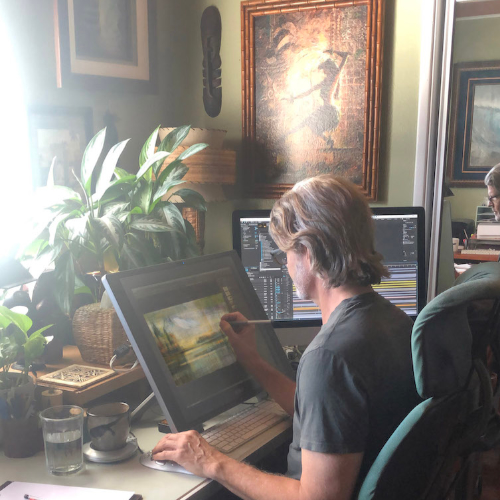 in my studio